Cowboy Poetry & Music Festival
Melody Ranch Motion Picture Studios
Santa Clarita, California
The Mojave Muleskinners and fellow reenactors traveled back in time at the Cowboy Poetry & Music Festival for a day of walking among the hallowed streets of the old Gene Autry Ranch where "Gunsmoke", "Magnificent Seven", many other Westerns and the HBO series, "Deadwood" were filmed.
More than two decades ago, City leaders were inspired by the National Cowboy Poetry Gathering in Elko, Nevada, and decided to create a unique celebration of Santa Clarita's Western history – from art and music to film and television. In 1994, the Santa Clarita Cowboy Festival made its debut, honoring the authentic Old West through music, poetry, cowboy gear, food and storytelling in a setting that was unique to the area…and the rest is history!
March 2004
We joined the infamous "Law Dawgs N' Ladies" for a day of fun exploring Melody Ranch.
.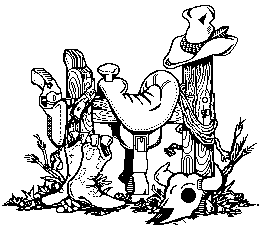 Melody Ranch is only open to the public once a year during this Festival.